20% tech premium to house prices in clusters
House prices across the world's tech hubs are 20% higher than local averages as employees from the likes of Apple, Amazon, Google and Facebook scramble for space, according to analysis from Bidwells.
08 Jul 2020
3 MINUTE READ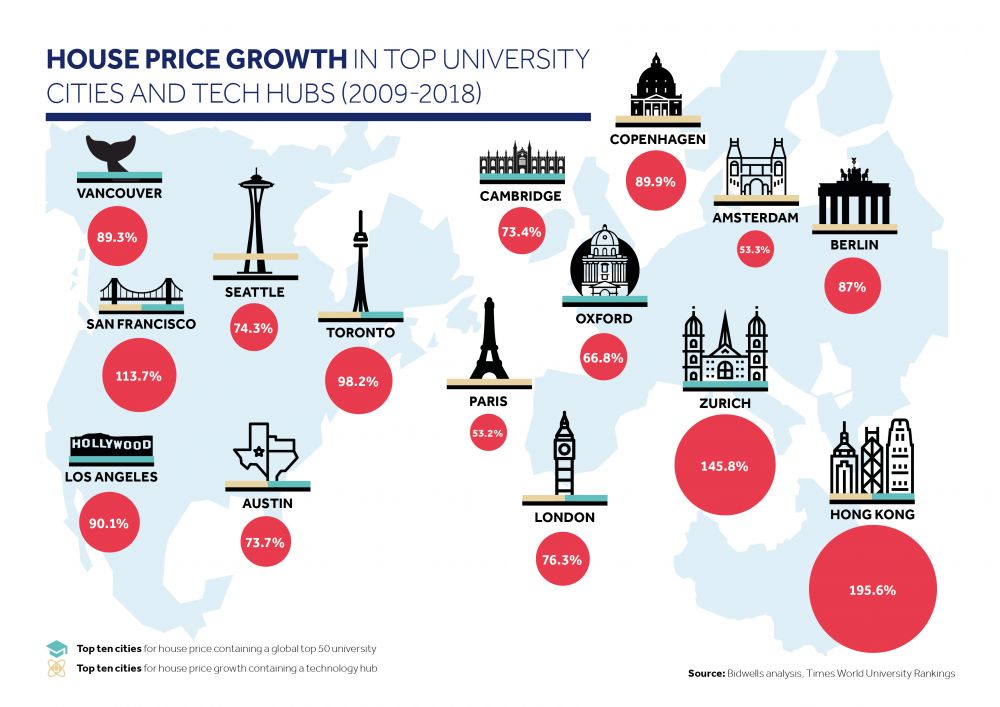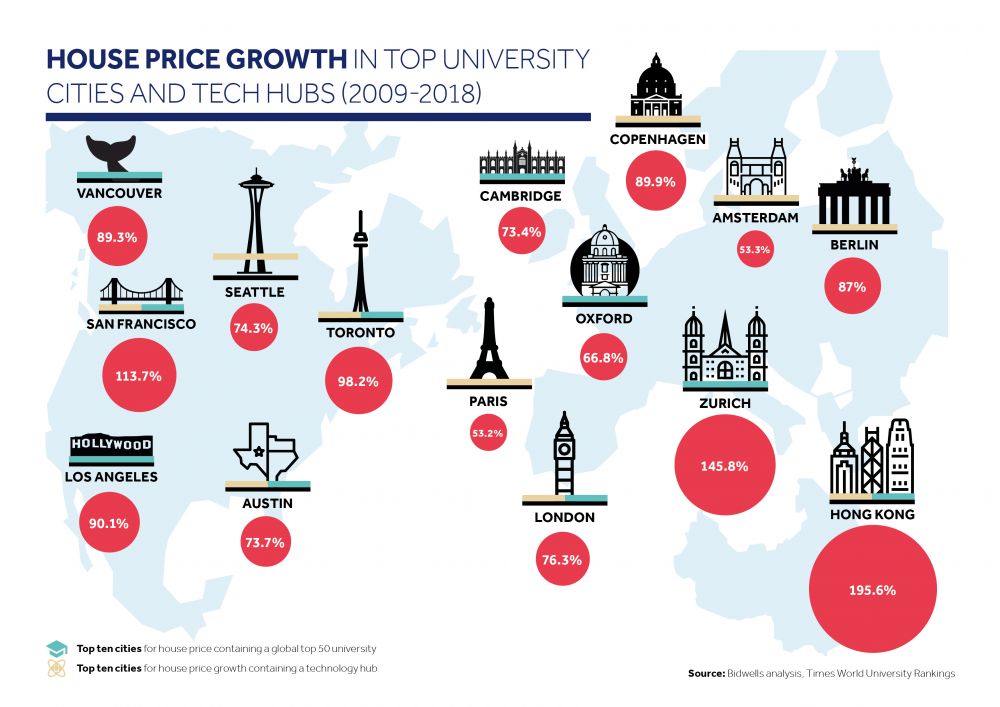 Bidwells, which specialises in the science and tech sector, studied 30 of the world's most prominent global cities containing well-known tech hubs and the highest ranked universities.
The research found house prices across those 30 cities grew by 61.3% on average between Q4 2009 and Q3 2018, compared to local national averages of 40.5%.
Cities known for being centres of tech growth - such as San Francisco or Berlin - saw average house price growth of 67.5%.
While flourishing tech scenes or universities are themselves only part of house price growth, they are one of a number of factors that drive a successful global city's economy and which in turn lead to house price inflation.
And certain tech hubs with restricted housing supplies have seen disproportionately large increase in house prices as young millennials flood into cities for work, particularly on the American west coast.
San Francisco, which has the headquarters of Facebook, Google and Netflix nearby, has seen house prices rise by 113.7% since 2008. Seattle to the North, HQ to Amazon and Microsoft has seen prices increase by 74.3%.
Bidwells has called on policymakers in the UK to be more pragmatic on relaxing planning so that economic growth can be better supported, particularly in Oxford and Cambridge, which are seeing fast growth in their tech economies off the back of their world class universities.
It says to solidify London, Cambridge and Oxford as tech hubs on the global stage far more needs to be done to increase the supply of new homes and new commercial space.
In Cambridge, where Amazon and Microsoft both have offices, house prices have risen by 73.4%, in Oxford by 66.8%.
Patrick McMahon, senior partner at Bidwells, said:
"The downside of a booming global city is that house prices in many of those hubs are becoming so high – due to inflation and migration for work – that there is risk of curtailing growth or even a decline in the quality of life, especially in smaller markets with very limited supply. Bidwells has conducted this research to show what might happen to Oxford and Cambridge if we don't start taking infrastructure seriously.

"They are small cities seeing major booms in their burgeoning tech and research economies off the back of their world-class universities and while they are not yet on the same scale as other major global tech hubs, they could be.

"We need to start planning for that now."
Headline house price growth in tech hubs and universities (%)
| | |
| --- | --- |
| | 2009-18 |
| All cities | 61.3% |
| All countries | 40.5% |
| Tech hub cities | 67.5% |
| Top 100 uni cities | 65.8% |
Souce: Bidwells analysis


The rapid growth in house prices is starting to provoke drastic solutions to curtail growth – from both governments and the private sector.
Microsoft is investing $500m into the Seattle affordable housing market to boost supply and affordability, while in the UK the Wellcome Trust has submitted plans in Cambridgeshire for a major expansion of its Genome Campus in Hinxton, which includes 1,500 homes reserved for campus staff.
From governments, demand side measures aimed to slow demand are most common, particularly from overseas.
Bidwells has set out a number of methods that could ease the affordable housing crisis in Cambridge and Oxford:
Allocations in local plans for key worker housing in the affordable mix

Designated funding from Homes England to aid development of affordable and key worker homes

Encouraging science park and other business space providers to look at live/work models

Tie ups with big businesses to provide cheaper loans for housing in return for tax breaks

Encouraging higher density development in sustainable locations e.g.next to transport hub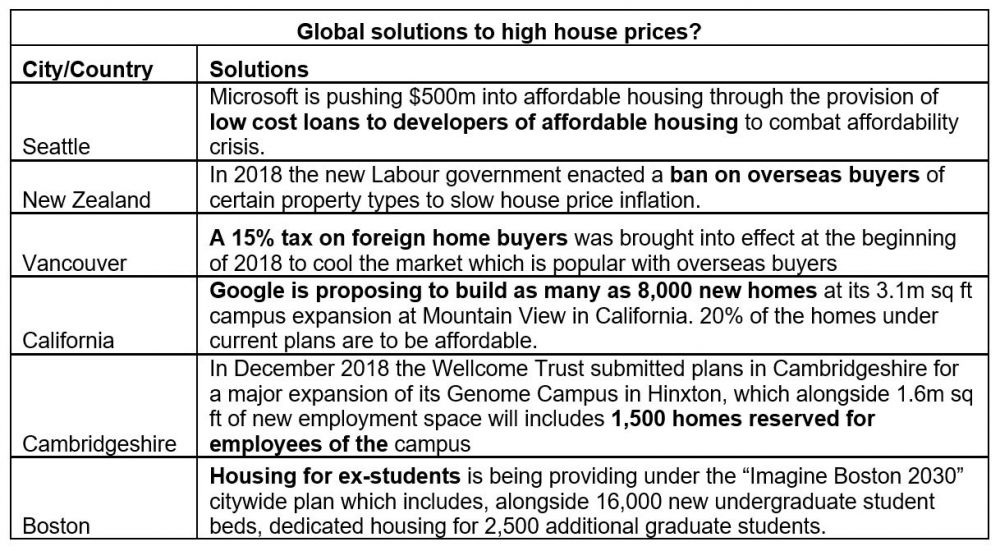 The research also looked at house price growth in cities with a top 50 global university and found average growth of 65.8% between Q4 2009 and Q3 2018.
As venture capital increasingly looks to top universities as the potential source for a future Google, SpaceX or AstraZenica, skilled talent has flocked to Oxford, Cambridge and London locations contributing to house price growth.
McMahon added:
"Cambridge and Oxford are now on the global stage thanks to their world class universities and burgeoning tech centres. We want to attract more companies, we want more growth, and we want to cement the position of Oxbridge as a viable alternative for large tech companies moving out of London.

"Housing must support that: to attract the best and brightest we need to be able to offer them the best and brightest places to live and this means a massive investment in housing."
Source: Bidwells analysis, Times World University Rankings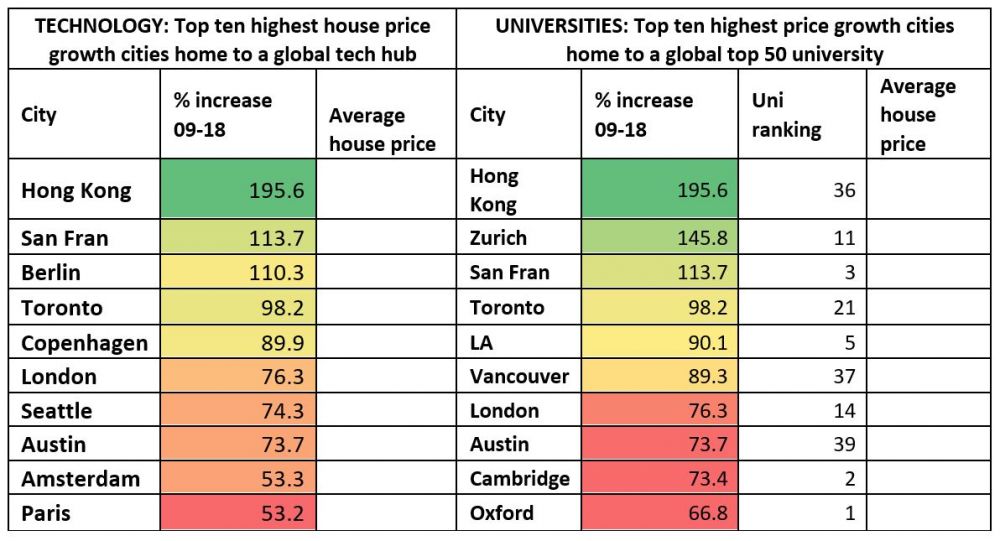 About the research:
All house prices based on national house price indexes except Zurich, Canada and Berlin, which are based on private indices: Comparis, the Canadian Real Estate Association and . The smallest possible samples have been used, but some results encompass wider regions. Growth has been calculated on a quarterly basis and indexed from Q4 2009.
All efforts have been made to make the data as comparable as possible, though there remain differences in methodologies and types in some situations. Mainland Chinese and Indian cities have not been included due to a lack of national house price indices.
Top universities have been chosen using the Times Higher Education overall ranking. To give a more global sample the number of universities has been limited per country (this is particularly the case with US universities, which dominate the ranking). Where universities are near to major conurbations, such as Stanford with San Francisco, they have been assumed to represent that city. Tech hubs have been chosen through consensus as a number of different measurements can be used to define them.